1 Million Hours Free LTI Acheived…!
May 6, 2014 3:17 pm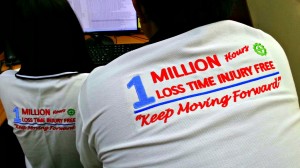 Throughout the period of December 2011 to December 2013, SAS has remarkably achieved 1 million working hours free of Loss Time Injury (LTI).
The count started on November 2011, after the last accident , which caused our previously accumulated man hours of 528.677 to free fall to ZERO. It was a sad misfortune as the company was one step away from over-achieving the 2011 man hours' target of 350.000 man hours. Nonetheless, After identifying and implementing all the corrective actions, the company managed to pass the year 2011 with 'only' 42.666 man hours achieved.
Year 2012 was a better year.
Setting up the target for 450.000 man hours, SAS ended up with a total of 496.564 man hours recorded. A valuable motivator for setting up a more daring goal for year 2013: 500.000 man hours without LTI.
It is through a combination of hard work, discipline, good cooperation and increasing awareness of all employees in all of our operation areas that in 2013 SAS again scored a victorious number of 588.138 man hours. This number brought forth the company's accomplishment to the 'magic number' of 1 million working hours with the exact number of 1.127.368 hours.
For this remarkable achievement of HSE objective and as an appreciation to all employees contributing to the record scored by consistently prioritizing safety factor in every day's work, the management has decided to present a safety reward in the form of uniformed polo-shirts bearing the note of the historical 1 Million Hours Free of LTI.
The polo-shirt will also serve as a reminder to us all to always put safety first at work.
For the year 2014 the HSE objective is the same as last year, which is 500.000 Man hours. Despite the constant target, we must always be constant in maintaining our 'safety first' behavior so that we can end this year with another worthy score to add to our existing 1 Million Hours.
SAFETY IS A MUST, THINK SAFETY FIRST BEFORE WORK BECAUSE SAFETY IS THE FIRST GATE TO SUCCESS IN YOUR WORK.
THINK SAFE – ACT SAFE – BE SAFE.